The Importance of Your Website
It's not uncommon for business owners to look at a company website as more of a requirement than a tool. You know you need an online space to do business, especially if you utilize eCommerce, but beyond that, what can a website actually do for you? Our comprehensive guide will walk you through all the features a website can offer your business and provide additional information about how you can take those features even further with reliable WordPress hosting, SEO strategy, digital marketing, and content strategy.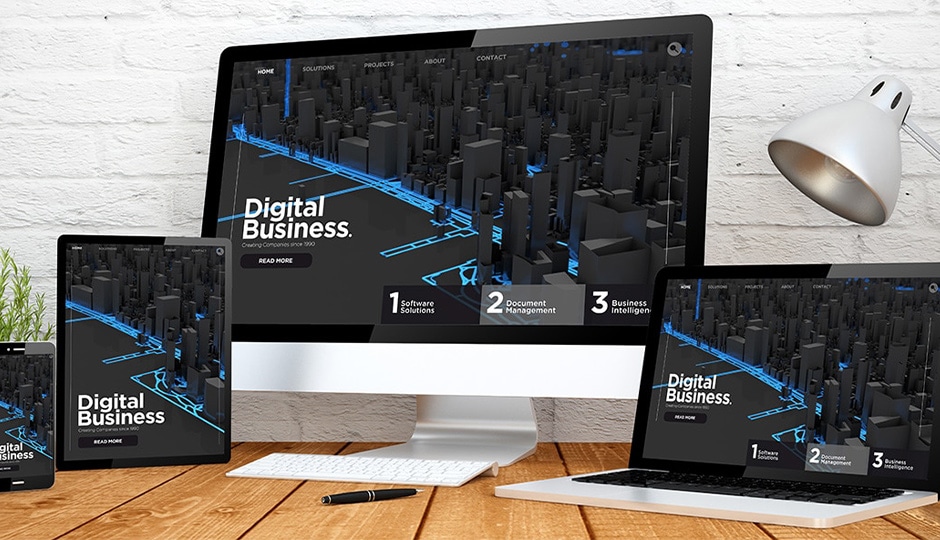 Why do I need a website?
You need a website for the same reason retail stores need brick and mortar locations: it's impossible to do great business without a space to define your brand and how it interacts with customers. A website has the potential to create not one, but many different touchpoints that all serve different purposes for your business. These are just a few basic things websites do for your business, sometimes even unintentionally:
Representation: Websites broadcast the quality of your business and tell the story of your brand through copy, images, and the user experience itself. Just like any brick and mortar location, if you leave the space largely empty, undecorated, and without functioning facilities, you'll not only not be discouraging customers from visiting—you may also broadcast a lack of care, trustworthiness, and knowledge about the niche you do business in.
Information Sharing: According to an eCommerce report for the United States, "…88% of consumers research products online before buying in-store." It's never been more important to be transparent about your products and services in the online market where information should be easy to find. If you haven't invested in persuasive content to describe your products and offerings, you're missing out on a massive opportunity to build trust and drive conversions.
Lead Generation: Along with informing customers about your business, websites also provide a platform to generate interest and directly interact with consumers online. Even if you don't sell products online, having a user-friendly space where people can request more information, get in contact with your sales representatives or subscribe to alerts and promotional emails—all of these items can provide quality leads for you to generate more business with.
Customer Service: Websites are the perfect location for customers to get in touch with your business directly, especially when problems and questions arise. With added chat features and phone support, you'll have access to feedback as it happens and can address issues with eCommerce and services almost instantly.
Digital Marketing: Online ads and social posts need a destination for more information about your business, whether that's a landing page, product page, or home page. A website acts as the center of your digital marketing and is the platform where your marketing strategy should start, unifying the intention and purpose of your business.
Getting Onboard with SEO

Search engine optimization (SEO) is a key component of getting your website noticed. Why? Website traffic is massively impacted by organic searches online. Having an SEO strategy that incorporates the relevancy of topics and quality content to drive views also means having higher conversion ratings and SERP (search engine results page) performance.
Good SEO goes beyond simply having keywords integrated into web copy: it's incorporated in almost every detail, including meta tags, how engaging the content itself is (which can be influenced by video and graphics), and how relevant everything on the page is to a user's interests. Mobile device optimization is also a factor, so be prepared to design accordingly.
Getting so many details right can be more than a little daunting, so it may be helpful to seek out marketing and SEO services from professional agencies. Look for SEO partners that are willing to coordinate with you and your needs rather than simply telling you what to do. WP Suites, for instance, is a strong example of an agency that works with you to draw on your company's strengths while helping you improve the content to get your website performing at the level you want it to be.
Content Strategy for the Win
SEO isn't the only important element of getting your website noticed. If your content doesn't engage users and provide relevant information, even a keyword-optimized page can be penalized by Google's search algorithms. The key to having great content, then, is having a content strategy before you even start writing copy for your webpage.
Build a winning content strategy by getting to know your customers and what appeals to their interests. Creating an audience profile that details consumers' current interests, similar competitors they look at and basic demographics can give you insight into their pain points and extra information they're trying to find out about products and businesses just like yours. Similarly, you should be aware of how your content addresses each touchpoint of the buyer's journey so you can inform, persuade and re-engage at just the right times.
One of the best parts of digital content creation is being able to clearly see how users consume your content. Take full advantage of this by measuring results through conversions, social interactions, search engine rankings, and user engagement. With all of that data, you'll be able to curate content according to your business's greatest strengths so you can keep users coming back for the most relevant content.
Taking Advantage of Social Media Marketing and Online Ads
One of the many benefits of having a website is reaching a larger audience for your business through online channels. The only problem is, it's getting harder and harder to be seen on a medium saturated with so many users, businesses, and information that's likely similar or the same as what you're offering. In order to stand out from the masses and prove that you have something unique and valuable to offer, you need to invest in marketing that establishes your brand while sharing the benefits of your products and services.
To this end, you should understand the differences between paid, owned, and earned marketing, as well as how they interact with one another.
Owned Media: Content you own or control, such as a website, blog, or video.
Paid Media: Content you spend money on to promote a product or service on a third-party site. These often take the form of Facebook and Google ads.
Earned Media: Content, reviews, and posts created and shared by users who interact with your products and services.
Once you've developed a marketing strategy or consulted a marketing agency with your company goals, you can weave together strategies that implement effective combinations of ads, custom content, and social growth that get your website (and consequently, your company) on the map in the vast space of the internet.
Hosting a Website in the Right Place
Website hosting refers to a business or location where your website's information can be stored on a server (or servers) and accessed via the internet. Since the service provided by a host will influence the user experience of your website even before it appears on the web, it's important to invest in a service you can trust with features you need now and as your website grows in the future. So, what should you look for in WordPress and other hosting plans?
Uptime
The most important feature to look for in a host is the amount of uptime they promise. Uptime is simply the time that the host's servers, and therefore your website, are operational, so you don't want anything less than 99% uptime.
Speed
The speed at which users can access your website is largely impacted by the website host you use. Typically speaking, the faster their machines are, the faster the server hosting your website will be when it communicates with users. This speed is key for a good user experience, and faster loading speeds mean that search engines have an easier time crawling your website, ultimately helping your website to rank higher in searches.
Support
Since the services provided by a hosting service will last over the lifetime of your website, it's important to invest in companies that offer 24/7 support to help you handle any problems or questions that arise. Also, be sure to look into how much control you'll have over your own website and its features. Services like ours, for example, provide WordPress-optimized options to help websites perform well online.
Security
The quality of servers and technology provided by a host has a huge impact on the security of your website and the information that passes through it. Look for SSL (Secure Sockets Layer) encryption to protect sensitive information and to build trust with users.
How it all comes together
Building a website and keeping it up to date with great content, marketing and services can be a process that takes years. We can help you from the very beginning with services and consultations suited to the unique needs of your business. Try investing in our secure, reliable WordPress hosting today so you can get started on the road to a fantastic website.