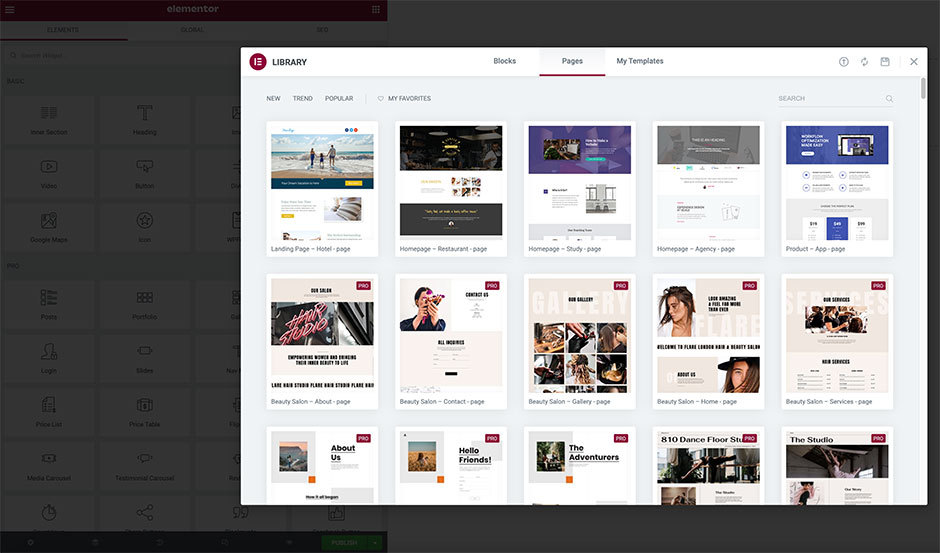 WordPress is the most popular content management system in use on the web. It's free, open-source software that's dynamic and feature-rich, enabling you to design almost any type of website you can imagine. For those with limited knowledge of how to build a website, WordPress comes with a learning curve. Elementor Page Builder is perfect for your WordPress.
Here's how you can use Elementor Page Builder to build the website you want:
Elementor Page Builder
If you find all the templates and tools within WordPress confusing, you might consider using a page builder called Elementor.
There's a reason it's the most popular page builder currently available for WordPress. It boasts over three million active installs logged at WordPress.org.
You don't need to understand HTML or any coding language to use it. Furthermore, it offers a visual drag-and-drop interface and works with any WordPress theme. You can also see the changes you make in real-time.
That instant gratification is a big draw for this tool that allows designers of all skill levels to craft robust, visually appealing websites in minimal time. Elementor provides live design for a streamlined experience that cuts down on time and frustration.
The Benefits
You can create distinct and exciting WordPress posts and pages using Elementor that stand out and help improve your SEO. Pages and posts have their user interface in Elementor, so you're not stuck trying to navigate Gutenberg's standard block editor.
You can use Elementor without having previous knowledge of HTML, CSS, or other coding languages. The builder's interface is intuitive. Since it works on the front end of your WordPress site, you can see your updates instantly to speed up your workflow.
This page builder also gives you dynamic creative control. Using Elementor, you can craft any content or page layout you wish despite the limitations of the theme you're using. It works with any WordPress theme and for any skill level.
Elementor now has landing pages built into the website builder. This feature is easy to use and makes creating landing pages within your existing site easy.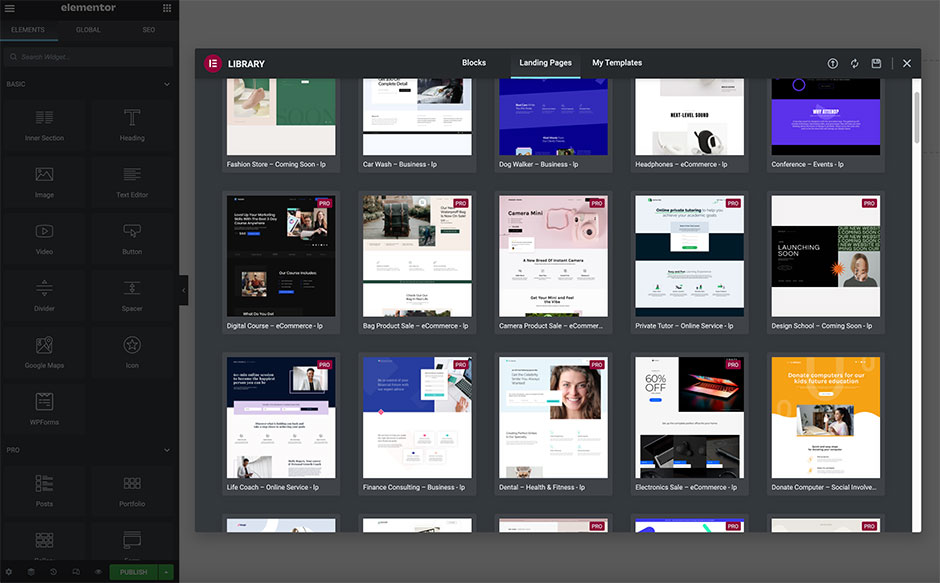 Historically, WordPress page builder plugins were used to make things easy to edit. As websites got more advanced, the default WordPress editor wasn't enough. We were able to style our sites and do more with them without all of the added custom code.
Page builders also brought on a new issue. Themes built with other page builders are normally very bloated with extra code, modules, and things people will never use. This caused issues with speed. On average, we see sites with speeds less than 2 seconds load time with Elementor.
Best of all? If you're on a budget or just getting started, there's a free version of Elementor available. There are even more great features available with the Pro version and it costs far less than hiring a designer.
Great Features
The Elementor page builder is loaded with highly useful features.
At the heart of this tool is robust functionality. There are over 90 different design elements and modules to select from in crafting your posts and pages. Furthermore, there are buttons, image carousels, counters, testimonials, headers, and more.
It offers a drag-and-drop interface that makes styling and population quick and easy. As you make changes, you get to see them on your site instantly without flipping back and forth. It speeds up the process and helps minimize errors.
The pages you design in Elementor are mobile-ready and optimized for SEO. This helps greatly in getting your site indexed by top search engines like Google and Bing.
If you're not sure where to start, there's a library of ready-made page templates you can modify or import into your project. As many as 150 are free with over 300 premium templates available. And if you're keen on designing your templates for use? You can do that too.
Elementor Pro
When you upgrade to the Pro version of Elementor, you get the Theme Builder feature. With this feature, you can make changes to your theme's core design which is a dream come true for most WordPress fans. You can tinker and tailor with your theme's header, footer, blog archives, and single post template.
With the premium version, you can also craft flexible popups for your site with Elementor's Popup Builder. You'll have control over all regular Elementor widgets like contact form popups, email opt-in popups, login popups, and more.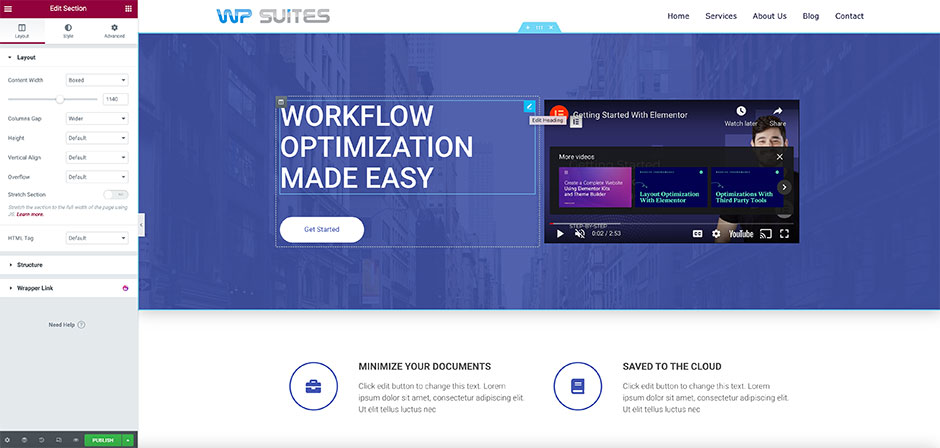 Creative Accessibility
For those using WooCommerce for their business sites, Elementor has a new WooCommerce Builder module. Like the Theme Builder feature, it lets you redo the basic WooCommerce pages like product archives or single product pages for an enhanced level of control. And, you instantly know what your modifications will look like as they are reflected instantly for you.
Did we mention the content elements you get like buttons, dividers, icons, image galleries, and more? There are testimonial components, social media icons, shortcodes, and more in addition to the widgets that come with WordPress. You have access to display settings as well so you can change backgrounds, default colors, fonts, margins, and padding values.
You also have creative control over what your WordPress site looks like on all devices with Elementor. It allows you to view your site as it would appear on a desktop computer, a tablet, or a smartphone. With this feature, there are no surprises. Visitors to your site get a seamless, visually appealing experience no matter what device they view your site on.
Last, but certainly not least for those who know its value, is a full revision history. It's easy to switch back to a previous version of the post or page you're working on if something doesn't work for you, and you want to undo it.
WordPress Page Builders
Elementor is intuitive enough for most people of any skill level to be up and running quickly, but how does Elementor match up against the competition?
Oxygen Builder
Oxygen is a strong WordPress page builder. If you're familiar with CSS and HTML, you might like it better than Elementor once you learn it. But there's a learning curve either way.
Visual Composer
With Visual Composer, you have the option of starting with a clean slate or you can choose from a few different provided layouts. In its visual interface, you can design from there. The interface is smooth-performing, but it doesn't have inline editing. Another drawback is having the options in the sidebar as a lengthy single column.
I work on a lot of different WordPress websites. I will say that most of them that use Visual Composer look good. That is about all I can say that is good. They are bloated with so much extra code and modules that don't get used it is pretty bad.
Beaver Builder
Beaver Builder gives Elementor page builder a run for its money. It's been around for a while, and it creates clean code. It's regularly updated, and it's popular with newbies and experienced web developers alike. There are add-ons you can get to extend its functionality like the Beaver Builder Theme and the Beaver Themer extension.
However, it loses to Elementor on value. In the free version, you only have access to six modules in addition to the standard WordPress widgets.
With Elementor, you get 30 modules with the premium version you can enable or disable to suit your needs. You also get 56-page templates with the ability to make your own. Beaver Builder is not, still, it's pricey.
Divi Builder
Finally, Divi Builder is among the most popular premium page builders available for WordPress. While this builder from Elegant themes is mostly used as part of the Divi theme, it is available as a stand-alone plugin you can use with other themes too. Divi lets you edit using a back-end interface or a front-end interface to suit your individual preference.
One of the main problems with Divi is it's shortcode-based. If you deactivate it, there are going to be tons of shortcodes left in your content. There are plugins you can install and use to clean up the leftover Divi Shortcodes.
It's Budget-Friendly
There are two versions of Elementor. There's a free version available at the official WordPress repository. You don't have to register or sign up for any trial periods. It works right out of the box with many of the features mentioned here included.
There's also a Pro version that extends Elementor's already great functionality. With the premium version you get:
More than 50 extra content elements and modules
Over 300 extra page templates
Theme Builder
WooCommerce Builder
Popup Builder
Visual Form Builder with popular marketing tool integration
Global widgets that can be reused all through the site
Custom CSS creation to Elementor blocks
Elementor elements in sidebars and widgets
You can also get 24/7 support and updates via an annual subscription for an additional cost.
Conclusion
While it has some excellent competitors, Elementor does everything better when it comes to creating in WordPress. It offers great value when you consider what you get with the free version. Even the premium version is very competitively priced. The majority of the features that make Elementor a truly innovative way to navigate WordPress are available in the free version.
It's not hard to see why Elementor is one of the most popular and highly-rated website-building tools available today. With a wide range of ready-made templates, a front-end user interface with a live editor, Elementor is the first choice of many who want to create gorgeous, SEO-friendly websites at a reasonable price.